I hope everyone has had a fabulous weekend! I know I did. It was pretty amazing but nothing really spectacular happened.
First things first, last week I found out that I won
Melanie's
give away! I was so pumped! I NEVER win anything.
I received the package on Friday and it was pretty much awesome.
This nail polish she sent me makes my heart sing. Essie "chinchilly." I just HAD to paint my nails the second that I got it.
I didn't work on Friday because I was TRYING to get my house clean for a party on Saturday. Little man and I had a Mommy/Son "date" at Star Bucks. It was his first hot chocolate ever. So adorbs.
On Saturday I got an "outside run" in, in the morning. I haven't run since the Color Run last weekend but I had my fastest run ever! Woo hoo! Then I "hosted" my Mom in Laws birthday party at my house. It was tons of fun! So you may think the decorations are a little "little girlish" well it was for a reason. I thought it would be funny because she keeps "bugging" me about wanting me to get preggers and have a little girl (she has two boys). So I decked out the decor in pink and purple, and we had a "princess party."
Sunday was chill. Went for another "outside run," and it was pretty much awesome. Then lounged with my boys. THEN the hubs and I had a date night...we got a baby sitter and enjoyed a nice dinner. Unfortunately I drank wine and had some pasta, but you know what? Even if your dieting you gotta live a little! I Love Sundays because they are usually relaxed despise them a little because the next day is Monday.
Oh wait...you want to know who won the GIVE-AWAY???
a Rafflecopter giveaway
Congrats Sam! I will shoot you an email shortly!
Also I'm participating in: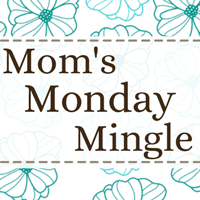 It's a blog hop...I have never done one of these but it is a cool way to find new blogs to read!