Today I'm linking up with Melanie for Lets Talk Tattoos!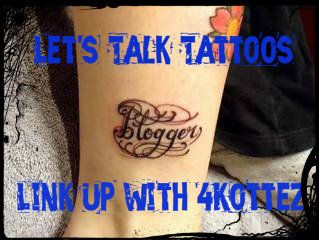 Ok so here it goes. Yes I have a tattoo. Yes I regret it. YES it is a lower back tattoo TRAMP STAMP.
I got it when I was 18...ahh so young and dumb. My boyfriend at the time helped pick it out. Oh how great of an idea that was.
It is a flower with petals falling off. It's black. It's ridiculous. Thankfully I cannot see it. But these days since I've been losing weight and my pants are literally hanging off of my bum EVERYBODY and their mom has seen my tramp stamp. LOVES it...(sense the sarcasm).
I hope no one is offended if they also have a lower back tattoo. It is just a joke between my hubby and I. Obviously not everyone with lower back tattoos are tramps. I just like saying tramp stamp. I really think the lower back is a cute spot for a tat.
I'm not sure If I will get more tattoos. I almost have a few times in the past years but never went through with them. Guess we will just have to see what happens!
Unfortunately I can't post a picture because no one is around to take it for me and I don't think my almost 2 year old could aim right. But another day another time promise. ;)
ALSO, I am hosting a giveaway over at
First Name Smith
. Go and enter and check out Kristen's blog, she is so. funny. :) Plus you could score a $25.00 gift card to heaven aka Target. Check it out!
Can't wait to hear about all the other tattoos!